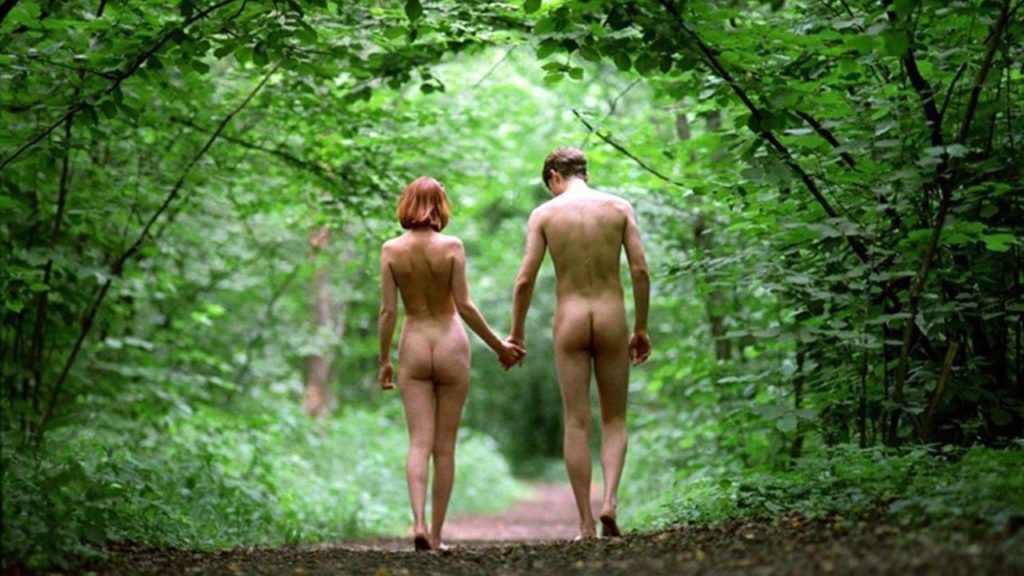 Red River Valley is an old North American folk tune. I think of it often. Writing new naturist-oriented lyrics for it is amazingly easy – I just couldn't stop myself until I had 11 full stanzas. If you feel compelled to actually sing this, just be aware that a few accents should be placed not quite where they usually are.
Will you think of the time you have wasted
Washing clothes you had rather not worn?
Will you think of how much you have hated
Wearing stuff that just left you forlorn?
Will you think of the clothes you'll be leaving,
And how useless they really have been?
Will you think of the cash you have wasted
Buying clothes just to cover your skin?
Wearing clothes is so wrong when the sun shines.
Fully naked is what you must be.
All your body parts must stay uncovered,
So you'll live every day happily.
Wearing nothing at all for the whole day
Is exactly the thing your soul craves,
And you so hope for the time that can be.
Let your clothing be cast to the waves.
Many think nudity must be sinful,
But that's crazy and totally wrong.
Let's all happily show our whole bodies,
And rejoice simply bare all day long.
Just forget wearing even a T-shirt,
And of course be all nude further down.
Every inch of your skin's best uncovered.
It surpasses so far any gown.
Very sadly most folks can't live unclothed.
They can't see why they need nothing on.
Please tell others it's fine when you're naked,
How much better life is with clothes gone.
Do you fear that your friends might reject you
Once you've started to never wear clothes?
You will find that your true friends applaud you
When your butt is as bare as your toes.
My advice: give away all your clothing.
Life is great when there's nothing to wear.
You will find that you feel so much better,
When you're proudly and completely bare.
From your clothes you have got to be leaving.
They just never were worthwhile at all.
You have hated forever to wear them.
Fully naked you'll stand proud and tall.
Being clothesfree is such a great lifestyle.
You must forget your fears joyously.
When your closet and yourself are all bare,
Nude for now and for good gloriously.